When I received this book in the mail, I stared at the cover for several minutes trying to wrap my brain around the truth behind this fictionalized account of Sang Ly's life.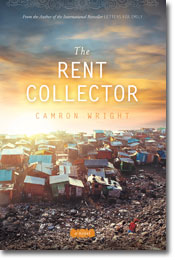 My nine-year-old daughter saw the cover of the book and I explained to her that it was a large dump where people put all of their garbage and that those shacks were houses where people lived. It was very hard for her to comprehend what I was telling her.
Why would they live in the dump?
Why can't they just come and live here (in the U.S.)?
It was a priceless opportunity for her to see how blessed we truly are.
I loved this book! Amazing storyline, characters that I feel I know, heart-wrenching anguish as well as joy in simple things--these are all feelings I experienced while reading
The Rent Collector
. I highly recommend this book to EVERYONE. Sang Ly's story is an incredible gift that will open your eyes and help you see just how much one person can change the world. It was so neat to witness Sang Ly learning to read and how that changed everything for her and her family. Being able to peek into a part of the world so foreign to my imagination is something that I feel has enriched my life and broadened my perspective yet a little more.
Here's a blurb for the book:
Survival for Ki Lim and Sang Ly is a daily battle at Stung Meanchey, the largest municipal waste dump in all of Cambodia. They make their living scavenging recyclables from the trash. Life would be hard enough without the worry for their chronically ill child, Nisay, and the added expense of medicines that are not working. Just when things seem worst, Sang Ly learns a secret about the ill-tempered rent collector who comes demanding money--a secret that sets in motion a tide that will change the life of everyone it sweeps past. The Rent Collector is a story of hope, of one womans journey to save her son and another womans chance at redemption. It demonstrates that even in a dump in Cambodia--perhaps especially in a dump in Cambodia--everyone deserves a second chance.
Learn more about the book and see videos at http://www.therentcollectorbook.com/about.htm